Spring 2021 COE Dean's List
The college of education releases dean's list for spring 2021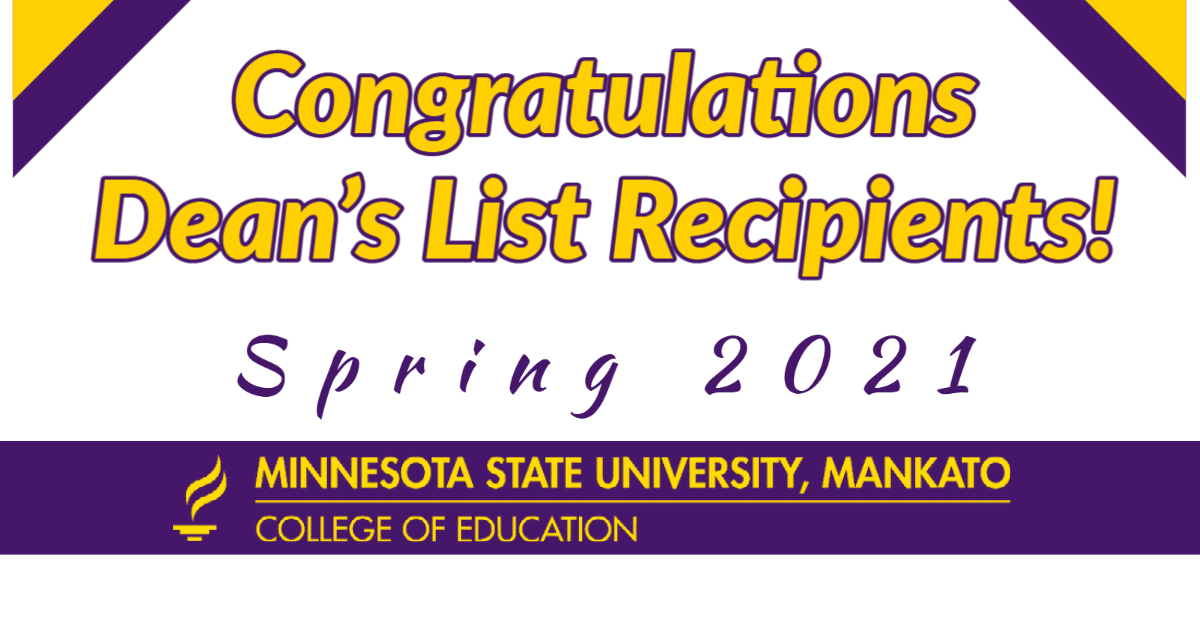 Spring 2021 Dean's List letters for the College of Education were sent out to students early July, 2021. Students on the Dean's List are undergraduate students who carry 12 or more credits (not including P/N) during a fall or spring semester and achieve a 3.5 or higher GPA.
For additional information on Dean's List reporting, visit the University's Dean's List Page.
Congratulations to all Dean's list recipients!
Aviation
Aiman Abdo
Nathan Ackerman
Cole Ahlgren
Ahmed Al Ghamdi
Khaled Al Zahrani
Manuel Alanis Andrade
Nawaf Alassimy
Nawaf Alawfi
Abdulaziz Alghunaimi
Abdulaziz Alhuthlul
Mohammed Aljabber
Mohammed Aljefri
Saleh Aljuaid
Saud Alkhaldi
Meshari Alkhatabi
Abdullah Almulhim
Jabr Almutairi
Khalid Almutairi
Salman Alnassar
Abdulmohsen Alrehaili
Abdulrahman Alsaggaf
Ali Alshehri
Mohammed Alshehri
Hassan Alshihri
Waleed Alsulami
Alhusam Alzahrani
Aric Anderson
Tihani Azlan Shah
Bassam Bakheet
Dalton Bialke
Carson Boie
Caleb Bormann
Dominic Bothe
Andrew Bravo
Hayden Brickner
David Ceaglske
Byeonggyu Cha
Rufaro Chingozho
Colten Christy
Colin Clavell
Livia Corliss
Jackson Cudd
Julius Davidson
Benjamin Dewing
Dominik Drabent
Allie Draper
Ethan Eberspacher
Emily Eslinger
Abdulaziz Fadin
Farziah Fatema
Connor Flanigan
Ryan Gazich
Benjamin George
Travis Haedt
Isabella Hage
Yazid Hannawi
Christian Harkins
Faisal Hashem
Nicholas Hauck
Drew Hawthorne
Daniel Heinen
Derek Helgerson
Webster Humphreys
Jung In Hyun
Osama Idris
Junhwan Jang
Hyunwook Ji
Zachary Johnson
Jacob Kemper
Mahmoud Kerdawi
Madison Klecker
Nicholas Klepinger
Jack Klimek
William Krager
Blake Kruse
Alexander Kurtz
Abdulrahman Lamfon
Sangyoon Lee
Sehyeon Lee
Thomas Lindsey
Madison Luebke
Tanner Luetjens
Noah Maher
John Marcella
Joseph Marlow
Sheldon Glen Martin
Colby Miller
Akino Nagai
Austin Nanke
Samantha Naples
Abdou-Salim Njie
Zachary O'Brien
Sungjae Oh
Connor O'Leary
Carter Olson
Wyatt Olson
Karl Ordahl
Joshua Osiemo
Zahara Osman
Mason Paden
Ryan Park
Tyler Pickel
Steven Piller
Katie Plath
Nathan Poster
Alyssa Quinones
Matthew Read
Carter Renwick
Benjamin Sarvis
Allen Schaffer
Hailey Seifert
Michael Sensenbrenner
Hwijong Seo
Paul Seppmann
Rayan Sharif
Mary Sikulu
Abdalbari Sindi
Jihun Song
Juhyun Song
Anna Sons
Evan Storkamp
Nolan Stram
David Tan
Dylon Taubert
Evan Taylor
Dylan Thomsen
Shay Tisdell
Teagan Tonjum
Ean Voigt
Alyssa Voit
Andrew Voit
Dylan Warner
Robert Wear
Ross Weber
Garrett Whetstone
Cameryn White
Ryan Wickman
Thomas Yokiel
Hunter Zaemisch
Elementary and Literacy Education
Celeste Aamodt
Abby Alderman
Allison Allen
Monchalet Anderson
Payton Anderson
Miranda Ankrum
Sonja Annis
Ashley Arndorfer
Maggie Baldwin
Maggie Baldwin
Kaitlyn Bannwarth
Clare Basso
Joey Batt
Jessica Baumgartner
Rachel Benedix
Mallory Bents
Nicole Boehmer
Alizabeth Brichacek
Carly Briggs
Kylie Brown
Bryant Brunz
Kaylyn Burr
Cassandra Carlson
Valeria Cendejas Caballero
Olivia Chladek
Jade Christiansen
Jessica Collyard
Jade Costello
Nicholas Culp
Lauren Dahlstrom
Madeline Davis
Mariah Davis
Claire Deitering
Nahomi Delgado
Jeana Denton
Lauren DeRaad
Margaret Donahue
Grace Draeger
Hailey Eastburn
Cora Eichten
Marissa Ellenbecker
Quinn Ellingson
Amanda Engelhart
Kaitlyn Ericson
Sydney Farber
Anna Floersch
Isabel Folkerts
Aliyah Frank
Megan Furr
Bailee Glass
Hunter Goebel
Norma Gonzalez
Rheannon Graves
Benjamin Groebner
Gabrielle Guimond
Peighton Gunderson
Jenna Lee Gustafson
Jordyn Gyberg
Lauren Hagen
Maria Haley
Anissa Hannah
Jasmine Harris
Taylor Harris
Alexis Harstad
Erika Heideman
Lyliann Heim
MaKynna Heimer
Trista Hering
Katherine Hetzel
Katherine Hetzel
Paige Hoffmann
Kelli Hollerich
Tessa Hubley
Mitchell Huerd
Nicole Hultgren
Megan Illies
Madeline Jacobson
Payton Jerrow
Ashley Jirik
Caitlyn Johnson
Nolan Johnson
Brianna Johnston
Jordyn Kajer
Anna Keranen
Madalyn Kilibarda
Kaylee Klang
Dakotah Kloek
Samantha Kozelek
Kate Kruger
Lexi Kvistad
Audra Larsen
Aubrey Larson
Chloe Larson
Olivia Lawrence
Elijah Lewis
Lauren Lindmeier
Amber Lovely
Emily Lubenow
Summer Lyons
Abigayle Marko
Kate Marshall
Rosemary Martinez Bartolo
Kassandra McCarty
Shania McElroy
Madison McKinley
Emma McLees
Melissa McWilliams
Alexis Milbradt
Megan Miller
Elise Mishmash
Elizabeth Morrison
Laura Morrison
Paula Nagengast
Amanda Nelson
Katelyn Neururer
Meghan Nguyen
Katelyn Nordhues
Addison Olson
Macy Olson
Shannon Parcher
Macy Pederson
Jaida Peterson
Paige Pigman
Sarah Prescott
Kaia Quimby
Samantha Quist
Caleb Reich
Erica Rettinger
Morgan Reuvers
Ellie Robbins
Jacquelin Rodriguez
Derek Rolf
Chloe Schmidt
Allie Schmitt-Morris
Victoria Schulmeister
Kasja Schumann
Emily Seehusen
Matthew Sellner
Leah Shanahan
Elizabeth Shaul
Lauren Shaw
Katelyn Smith
Kayla Soderlund-Hartung
Mariah Soleta
Emma Stendal
Jade Stewart
Amanda Stoffel
Jenna Sykes
Laura Symanitz
Emily Taylor
Regina Thep
Olivia Thompson
Rylee Thompson
Kayleen Tormanen
Michelle Tormanen
Rachel Trautman
Paige Vancura
Taylor Waldroff
Courtney Walsh
Shakira Warta
Adelain Weber
Emily Weldon
Allison Wolle
Kylee Yang
Paja Yang
Klaire Zellmann
Chelsea Zerr
Special Education
Abigail Alsleben
Kelsey Berg
Kayla Billings
Samantha Bubalo
Jack Bunce
Hunter Buscherfeld
Alexandra Buss
Madeline Chromy
Adyn Cramer
Tyler Danielson
Tori Day
Daniel DeSmith
Asia Dugas
Alyson Feltmann
Amanda Filreis
Jody Fischer
Sarah Freese
Alexis Grack
Peter Grassl
Kaitlyn Greenough
Kassandra Hammond
Alyssa Hanson
Rose Hazuka
Makinley Heil
Wesley Heiser
Shelby Hueper
Alayna Johnson
Megan Johnson
Grace Jorgenson
Danielle Junker
Kalley Kendall
Lexie Kromminga
Kathleen Kurth
Josh LaFave
Ash Larson
Alissa Lien
Angelica Lothert
Allison Lovejoy
Victoria Lynch
Jordyn Manderscheid
Madison Markgraf
Isabel Mattick
Maddie McCauley
Katelyn Merwin
Olivia Mikkelson
Sophia Mixa
KhattaLynnah Moua
Sadie Nelson
Hannah Olson
Madisen Paulseth
Meg Pawley
Paige Peckham
Katelyn Pieper
Elizabeth Prouty
Elizabeth Putnam
Jordyn Rakotz
Abigail Rannow
Elizabeth Rich
Tessa Ritzer
Olivia Roche
Sidney Schafer
Tyler Schernbeck
Kaitlyn Schmitz
Mia Schnaible
Abigail Shirk
Ashley Simmons
Sarah Skroch
Olivia Sowieja
Kristin Theis
Lexi Thomas
Kassidy Tocco
Jillian Tollefson
Jordyn Trog
Allyson Vorwerk
Damon Weierke
Zoey Weller
Morgan Wetterberg
Ashonte White
Allison Williams
Haley Williams
Emma Wurm
Krissy Yaedke