The College of Education Announces December 2020 Initial Teacher Licensure Recipients
Congratulations to all initial teacher licensure recipients
The Minnesota State University, Mankato, College of Education announced the Initial Licensure Recipients for December 2020.
View the celebration video by clicking the image below or click here.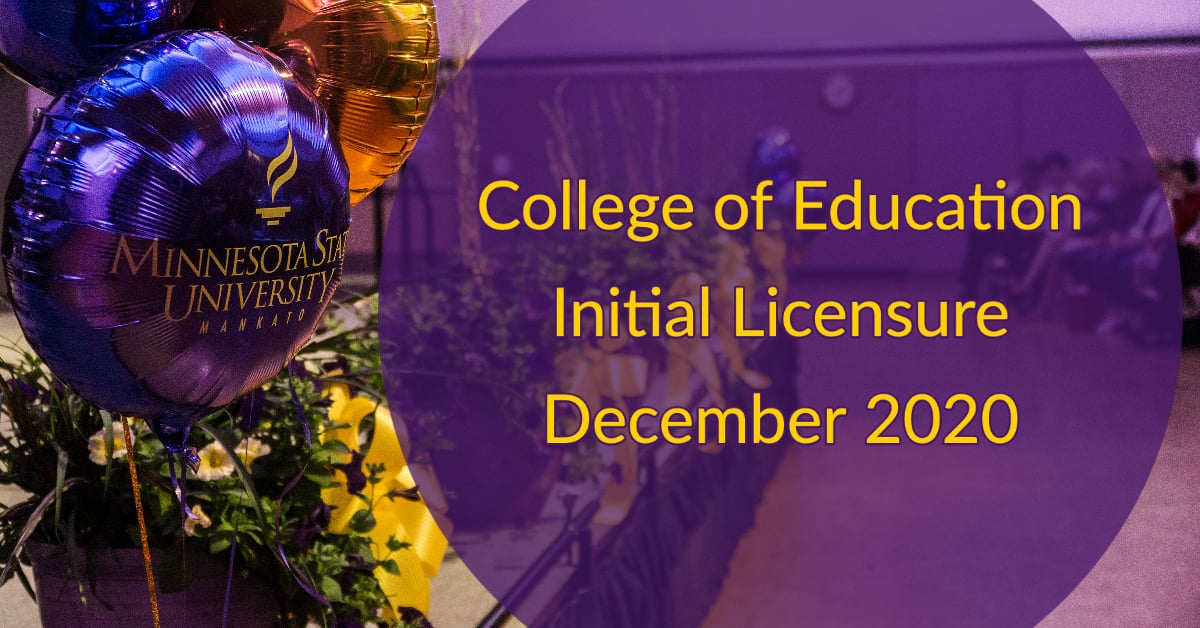 The College of Education recognizes and extends a special congratulations to Bachelor of Science in Teaching candidates and Graduate Level Initial Licensure candidates.
116 teacher candidates completed requirements for their initial Minnesota teaching license this December.
Three students served as speakers, each representing their respective departments. Angelo Tweed from Pequot Lakes, MN represented Elementary and Literacy Education. Abdurrahman Guantai from Mankato, MN represented K - 12 and Secondary Programs. Christina Schaaf from Apple Valley, MN represented Special Education.
Initial Licensure recipients joined the World Café, an event which allows students to reflect on their time with the College of Education and their teaching field experiences. Students had the opportunity to provide feedback for the college and their respective program. They discussed their experiences teaching in schools, what they learned through those experiences, and how those encounters impacted their growth as future teachers. Along with these concepts, they learned more about providing equity for all students and how to teach equitably. Students also reflected on the support they received from mentor teachers and supervisors.
Traditionally, there is a Pinning ceremony held each semester, the Friday prior to Commencement. Due to COVID-19 protocol, the in-person ceremony for December 2020 was moved to a virtual video celebration. Initial Teaching Licensure students celebrated together by watching their recognition video during the virtual World Café event.