College of Education Student Recognized for Work in Social Justice
Drake Burke receives KSP Award for Excellence in Social Justice Education
College of Education student Drake Burke received the KSP Award for Excellence in Social Justice Education, along with a scholarship. Burke is a double master's student in the History program and the Teaching and Learning program at Minnesota State University, Mankato.
The KSP Award for Excellence in Social Justice Education was created to acknowledge the great work that students are completing within the college. This award celebrates social justice-oriented work and promotes the College of Education's vision statement. The college actively inspires lifelong learning and professional engagement through racial consciousness, social justice and inclusion within a global context.
Burke received this award for their work with running workshops about understanding queer perspectives and disability perspectives. These workshops helped individuals to learn about gender identity and ways of connecting with people across different gender identities in the classroom and in various communities. The workshops also focused on how one is socialized to think about disabilities and those who have them and breaking away from these biases.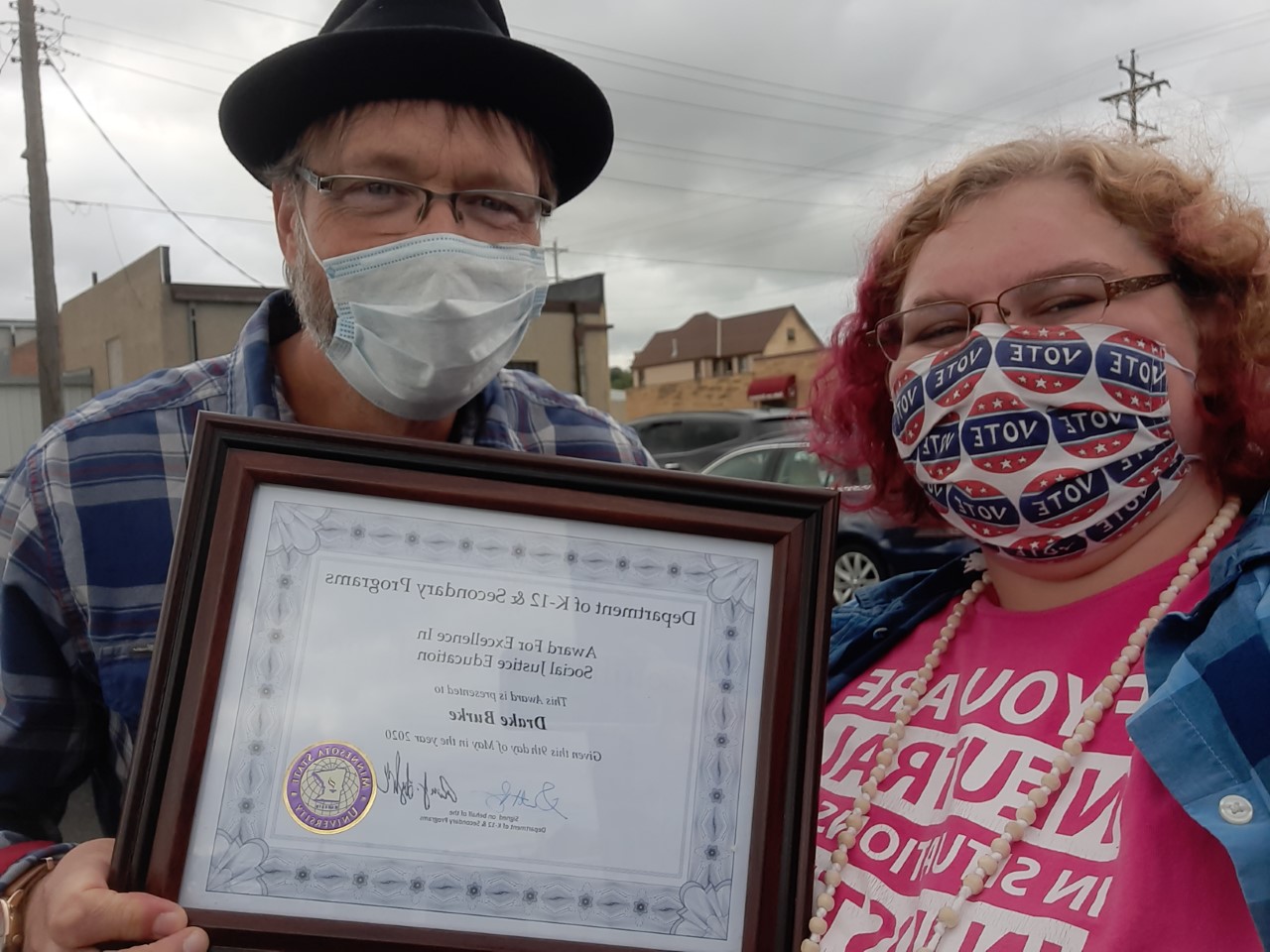 Pictured is Dr. Rick Lybeck, College of Education Faculty, and Drake Burke, award winner.
"Social justice is not always a grandstanding gesture, it is the little things we do each day to help others feel more included. Social justice is more about the small actions. Think about the little things," Burke said.
One goal of these workshops is to have personable, open discussions about these perspectives and to lead environments and communities to being more inclusive. Burke encourages people to identify normative ways of looking at gender and open up toward an anti-oppressive approach of gender identity.
Dr. Rick Lybeck, College of Education faculty, oversees the application process and works closely with those who apply for this award. "Drake shows great promise in being a movement builder," Lybeck said in an interview with the college. Lybeck also stated that Burke has a wide range of experience cutting across history, gender studies and critical theory to inform their work.
Applicants for this award must submit a description and evidence of their social justice-oriented work. Lybeck and fellow faculty members review the work and projects submitted by applicants. Examples of applicable work include papers written for courses or doing work in the community to teach about social justice. Students are encouraged to apply each year for this award.
For more information regarding this award, contact the KSP department at: 507-389-1965.