Hooding Ceremony, College of Education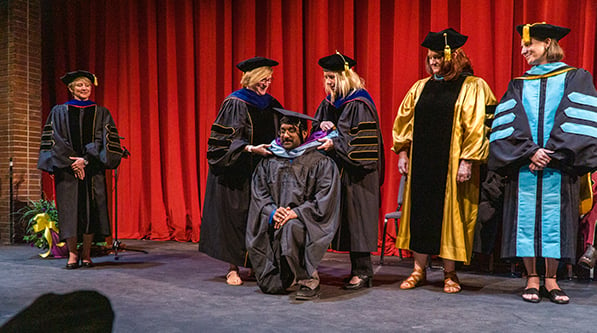 Each semester, the College of Education hosts a Hooding ceremony—a special recognition for our Ed.D., MS and SPEC degree candidates. During this ceremony, a faculty member places the graduate hood over the head of the graduate, signifying his or her success in completing the graduate program. The Hooding ceremony takes place on the same Saturday as the University Commencement.
The Hooding ceremony is similar to a graduation in that faculty and students are dressed in academic attire. The Hooding Ceremony is in addition to and does not replace the Commencement at the Taylor Center.
Upcoming College of Education Graduate Degree Hooding Ceremony:
Saturday, May 9, 2020 9:00 - 10:00 am - May Hooding Ceremony is held in the Ted Paul Theatre—Performing Arts building Reception immediately following ceremony. RSVPs are required. Click here to complete your RSVP for the May Hooding ceremony.
Click here to view the FAQ (Frequently Asked Questions) regarding the May Hooding Ceremony.
Graduates receiving their Doctorate, Masters, or Specialist Degree and guests, are all invited to attend the Hooding Ceremony and Reception. Invitations will be emailed to those students who have applied for graduation. Academic attire is required. RSVPs are required.The RSVP will be made available online in March. For more information contact: Christina Hinz at 507-389-2826
Hooding/Commencement Graduate Apparel
Gown
Cap
Tassel
Hood
Grad Pack (includes all of the above)
Order your apparel and view prices
Hooding/Commencement Doctoral Apparel
Gown
Tam and Tassel
Hood
Grad Pack (includes all of the above)