Hooding Ceremony, College of Education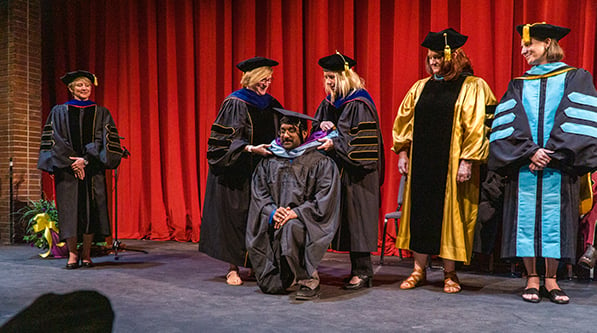 The traditional Hooding ceremony is a special recognition for our Ed.D., MS and SPEC degree candidates. During this ceremony, a faculty member places the graduate hood over the head of the graduate, signifying his or her sucess in completing the graduate program. For May 2023, the Hooding ceremony will occur during the University Commencement event.
COE graduate degree students are encouraged to participate in the University Commencement. Students who wish to participate in commencement must register in advance. Students can register through the Commencement Services site.
The University Commencement ceremony for the COE graduates is held in the Bresnan Arena in the Taylor Center. The College of Education Commencement ceremony will be held at noon on Saturday, May 6th, 2023.
Graduation Day Details and Lineup
Resources for Graduate Family/Guests