Accreditation
Department Mission Statement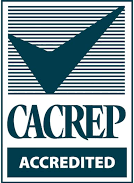 The primary mission of the Counseling and Student Personnel (CSP) Department is to prepare students who will become professional counseling practitioners at the master's and doctoral levels. The intent of the program is to prepare professionals who can serve regionally, nationally, and internationally to meet the needs of a pluralistic society. CSP graduates will embody qualities of respect, honesty, and integrity, while maintaining high standards and fostering caring relationships within a wider global community.
The mission of the department is achieved by the implementation of department goals and objectives, which are:
Department Goals & Objectives
Goal 1. To offer quality, CACREP accredited graduate programs for prospective helping professionals.
Objective 1.1 – Ensure that students' educational experiences will meet CACREP knowledge, skills, and practice standards.
Objective 1.2 – Develop and implement assessment methods to ensure students' acquisition of knowledge, skills, and practices in respective CACREP areas.
Goal 2. To develop students who will serve as active professionals, advocates, and leaders in the broader professional community.
Objective 2.1 – Integrate personal awareness into the curriculum through reflective assignments, high quality supervision, faculty mentoring, and experiential learning opportunities.
Objective 2.2 – Encourage students to actively identify with the counseling profession by participating in professional organizations and experiences related to research, advocacy, and relevant professional practice.
Objective 2.3 – Assess the personal and professional development of graduate students at designated transition points.
Goal 3. To create effective conditions that advance equity and inclusion in the CSP department.
Objective 3.1 – Integrate the values of social justice in all learning environments.
Objective 3.2 – Support students in their development to become culturally responsive professionals.
Goal 4. To embrace a culture of ongoing assessment to continually improve the CSP department.
Objective 4.1 – Conduct regularly scheduled assessments that include the following stakeholders: students, alumnae, supervisors, employers, and faculty; and modify programs and curriculum based on the data.
Accreditation Information
What is CACREP Accreditation?
CACREP (Council for Accreditation of Counseling and Related Educational Programs) was formed in 1981 in cooperation with the American Counseling Association to promote the advancement of quality educational programs in counselor training. For a program to receive accreditation, it hosts a CACREP survey team of counselor educators who review the program to see that it meets national standards in eight core areas of counseling: human growth and development, social/cultural foundations, the helping relationship, group dynamics/counseling, career development, appraisal, research, and professional orientation/issues. In addition to the core areas, the team reviews additional standards of instruction and supervised clinical experiences for the counseling specialty training offered by that program.
The Department of Counseling and Student Personnel (CSP) at Minnesota State Mankato is currently CACREP accredited at the doctoral level and at the master's level in three specialty areas:
Mental Health Counseling
Professional School Counseling
The CSP department collects on a yearly basis CACREP vital statistics published in the Counseling Programs Student Outcomes Report. For more information about CACREP and CACREP standards, please see the Council for Accreditation of Counseling and Related Educational Programs website.
Check Out The Counseling Programs Student Outcomes Report
Why is CACREP accreditation important for students selecting a program?
Demonstrates an ongoing commitment to providing quality instruction and clinical experiences for students
Streamlines the licensure process for Licensed Professional Counselors (LPC)/Licensed Professional Clinical Counselors (LPCC)

Most states' LPC/LPCC laws (including Minnesota) define required coursework and qualifying clinical experience by the CACREP standards
Graduating students qualify to take the National Certified Counselor Exam, used by most states for LPC/LPCC licensure

Meets the application preferences of doctoral programs in counseling and counselor education
For more information on CACREP from the student's perspective, please see the CACREP Student Site.