2023 CAEP Accountability Measures
The College of Education reports annually to the Council for the Accreditation of Educator Preparation (CAEP) on performance in areas of public interest including completer effectiveness, employer satisfaction, competency at program completion, and employment outcomes. The information on this page was created from data collected or reported during the 2021-2022 academic year.
---
Measure 1: Completer Effectiveness and Impact on P-12 Learning and Development (Component R4.1)
The college is in the planning phase of a project to collect data on the impact of our program completers on P-12 student learning and development. The Measure 1 Pilot Case Study link describes the data collection phase of the project planned for the 2022-23 academic year.
Measure 1 Completer Case Study report
Minnesota does not distribute value-added data.
---
Measure 2: Satisfaction of Employers and Stakeholder Involvement (Components R4.2, R5.3, and RA4.1)
Initial Programs
The college administers the Network for Excellence in Teaching (NExT) Supervisor Survey during the spring semester to supervisors of first-year teachers who completed a program at Minnesota State University, Mankato. Supervisors evaluate new teacher competence based on observations and respond to questions about new teacher performance across multiple areas, including working with diverse learners.
The Employer Evaluation of New Teacher Performance graph shows percentage of responses acoss seven questions.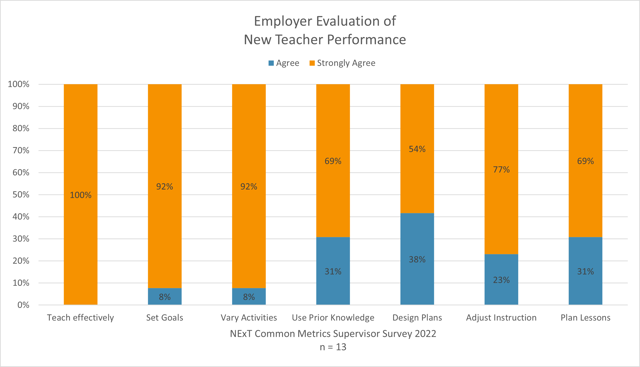 The Teaching for Diverse Learners graph shows percentage of responses acoss nine questions.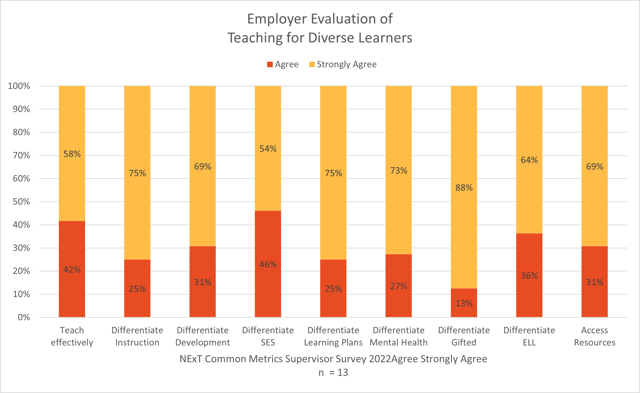 Advanced Programs
The coordinators for advanced programs are planning to develop and administer a survey of employers during the 2022-23 academic year.
---
Measure 3: Candidate Competency at Program Completion (Components R3.3 and RA3.4)
Initial Programs
The college monitors pass rates on assessments required for initial licensure in Minnesota.
edTPA Pass Rates 2021-22
In 2021-22, the following percentages of test takers passed all three edTPA tasks: Business Education: 0% (n = 2), Elementary Literacy: 61% (n = 46), Elementary Mathematics: 57% (n = 44), English as an Additional Language: 100% (n = 2), Family and Consumer Science: 75% (n = 8), K-12 Performing Arts: 60% (n = 10), K-12 Physical Education: 25% (n = 12), Secondary English Language Arts: 100% (n = 2), Secondary History and Social Studies: 78% (n = 18), Secondary Mathematics: 29% (n = 7), Secondary Science: 20% (n = 5), Special Education: 73% (n = 60), Visual Arts: 57% (n = 7), World Languages: 0% (n = 4).
Minnesota Teacher Licensure Exams
The Professional Education Licensing and Standards Board recently approved changes to reporting requirements for the Miinnesota Teacher Licensure Exams. As a result of these changes, the College of Education is not required to report MTLE pass rates to the Professional Education Licensing and Standards Board during program review. The Title II annual institutional report still includes pass rates by test area.
Advanced Programs
Advanced programs demonstrate candidate competency through key assessments aligned to the content and pedagogical standards outlined in the Minnesota Administrative Rules for Teacher and Other School Professional Licensing.
Key assessment data is collected in Anthology Portfolio, a web-based assessment software. Students create portfolios for their licensure program and submit materials for assessment as they complete program coursework. Program faculty review and discuss the assessment results semi-annually and use the information gathered for program review and improvement.
---
Measure 4: Ability of Completers to Be Hired in Education Positions for Which They Have Been Prepared
The university administers a Graduate Survey annually to program completers. From this survey, we gather information on the employment status of graduates. The graphs linked below show graduates' status one year after graduation in the following categories: Available Unemployed, Continuing Education, Employed Related, Employed Unrelated Not Seeking Related, Employed Unrelated Seeking Related, Not Available for Employment, and Status Unknown.
Initial Programs
Status One Year after Graduation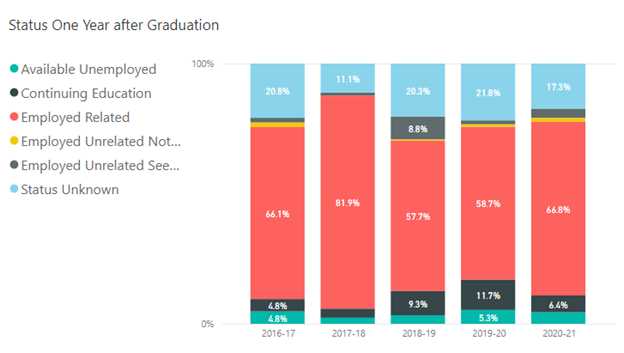 Advanced Programs
Status One Year after Graduation